Welcome to Misty Meadows Herbal Center. We are an Herb Farm, Store and Education Center. Our mission is to preserve, protect, responsibly promote and educate about medicinal plants, their habitats and uses and the art, craft and practice of herbalism, the medicine of the people.
In 2019 Misty Meadows became the first herb school in New Hampshire (and perhaps in the US) to be licensed by the NH Dept. of Education as a Private Post-Secondary Career School.
You will find us nestled on 66 acres of protected pasture and woodlands on scenic Wednesday Hill Road in the town of Lee, New Hampshire. Since 1989 our herb shop and sweet gardens have grown and evolved to become one of the finest facilities and resources in the country for bulk herbs, herbal products and education. While our gardens are not certified organic, we have used organic practices since the beginning and most recently have begun to incorporate permaculture as well.
Wendy Snow Fogg is the founder and Senior Herbalist at Misty Meadows. Her deep personal relationship with this land and the beings who live here has fostered a sense of "coming home to heal" for hundreds of students, teachers and visitors. She and husband Clyde have lovingly stewarded the farm since 1982, even before Wendy began to hear the songs of the plants and the whisperings of the trees and other nature spirits of this very sacred and magical land.
Our Herbal programs welcome students from far and wide to pursue herbal studies ranging from short workshops taught by talented local herbalists to a comprehensive hands-on herbal apprenticeship program taught by Wendy Snow Fogg, Jenna Kulp and Brian Pettengill. The Spirited Herbalist: A Plant-Guided Journey To Your Self is among the most highly regarded programs of its kind in the U.S. Our Advanced Herbal Studies programs are geared for students from intermediate to advanced level learning and are taught by exceptional teachers. In addition, Misty Meadows offers a variety of special learning opportunities with revered herbal teachers of national and international renown.
Our childrens' programs are offered for several age levels and facilitated by carefully selected, qualified teachers.
Gardens filled with richly aromatic herbs and colorful perennials will lead you around the farm. Miles of groomed walking trails through a purely magical forest rich with medicinal plants are sure to inspire you. You're encouraged to let your nose and eyes be your guides.
Our forest labyrinth is a place of peaceful solace where you can walk gently into the places of your soul, sit a while, then return with a quieter mind and deeper understanding of your journey.
Over the years countless herbal, aromatherapy and flower essence students as well as Reiki practitioners, witches, and seekers of angels and fairies have studied, played and found their personal path here, gracing this place with loving energy, great food and lots of belly laughs.
It is with great joy and humble gratitude that we continue to work, play and welcome others on this sacred land known as Misty Meadows.
CONTACT
183 Wednesday Hill Rd.
Lee, NH 03861
Telephone: 603-659-7211
Email: mistygoddess@comcast.net
Wednesday - Saturday 10:00am - 5:00pm

Sunday 12:00pm - 5:00pm
Closed Monday & Tuesday

CLOSINGS
Easter Sunday

July 4 - Independence Day

Thanksgiving Day

Black Friday
WINTER BREAK 2019-20: Misty Meadows is closed from 12/23/19 - 1/3/20. Orders placed after 12:00pm on 12/20/2019 will be processed and shipped within one week after we return 0n January 4. Happy Holidays!
Founder/Director/Sr. Herbalist
Wendy brings nearly 30 years' experience to students of our Herbal apprenticeship program The Spirited Herbalist: A Plant-Guided Journey To Your Self which she created and introduced in 1995, Step II: Intermediate Herbal Studies, Advanced Herbal Studies, Herbal Immersion Week and short herbal workshops and classes for personal growth. She holds advanced certification in Traditional Western Herbalism by Matthew Wood and also earned certification in advanced herbal studies from Sage Mountain in Vermont, certificate in Facial Diagnostics from William LeSassier Herbalist AC, and is certified in Traditional Herbal Diagnosis by Matthew Wood, AHG and Earthsong Herbals and has received numerous advanced herbal trainings at conferences over 30 years . A Usui Reiki Master Teacher, Wendy teaches all levels of Usui Reiki, is a Master Teacher of Shamballa and Karuna Reiki and most recently has co-created and introduced Green Fire Reiki. She is a certified ear candling practitioner and practices level 3 Craniosacral therapy and is a Master Teacher of Magnified Healing.
Garden Manager/School Faculty/Herbalist
Jenna has maintained the gardens at Misty Meadows since 2012 and has been a valued member of our teaching faculty since 2013. Her areas of expertise include sustainable wild-crafting, plant identification, permaculture, astrological gardening, fermentation, culinary medicine, herbal remedies for children, and holistic support for reproductive health. Jenna is an honors graduate of the Coe Brown Northwood Academy, winning the Congressional Art Award in 2009. She holds certification in Permaculture Design from Colby Sawyer College, Herbalist Certification from Misty Meadows Herbal Center, New Hampshire Natural Resource Stewardship Certification, two advanced level certifications in Herbal Studies from Misty Meadows Herbal Center and one from Thyme Herbal. She has also completed Earth Activist Permaculture Certificate Training. Jenna's herbal education also includes attendance at many herbal conferences including the New England Women's Herbal Conferences 2010-2018 and International Herb Symposiums 2015-2017
Products Manager/School Faculty/Herbalist/Web Designer
Brian is a man of many talents. He graduated from the Misty Meadows herbal apprenticeship program in 2014 and was offered the position of Products Manager within a very short time. Since 2015, Brian has become a highly respected member of the faculty whose classes and approach-ability receive continued accolades from our students. Brian's teaching style is brilliantly focused yet gentle. His insatiable desire for knowledge makes him a teacher whose classes are ever evolving and deepening in wisdom. Brian has completed Astro-Herbalism, Elemental Herbalism and the Vitalist Herbalist online courses through the School of Evolutionary Herbalism and has attended the International Herb Symposium 2015-2017 where he has won two awards for product making.
Harvest Manager/School Faculty/Herbalist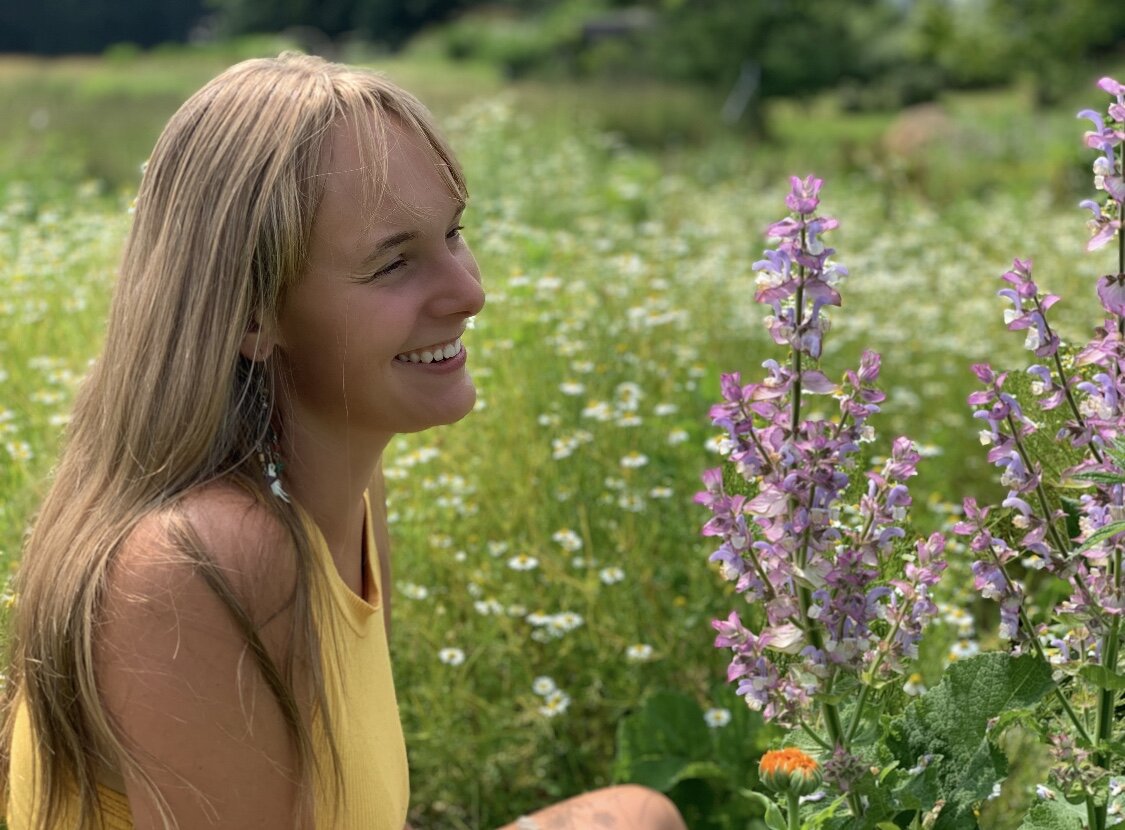 Assistant Garden Manager/Herbalist/Artist
Shop Herbalist/Clinical Herbalist
2019 Advanced Herbal Studies GUEST Faculty
Margi Flint, AHG - Margi has been a beloved member of the American herbal community for over 40 years, beginning with her studies with Rosemary Gladstar at Sage Mountain in Vermont. She is the founder, director, teacher and clinical herbalist at Earthsong Herbals in Marblehead, MA. Margi is especially known for her expertise in herbal diagnostics and her book The Practicing Herbalist is a staple go-to book for thousands of clinical herbalists and herbal students. Margi's classes span the globe and you will find her name listed as featured teacher at herbal conferences across the U.S.

Chris Marano - A graduate of Columbia University, Chris's very long list of credentials and achievements briefly includes current Founder/Director/Educator at Clearpath School of Herbal Medicine (Wendell, MA); Clinical Herbalist-Health-care Practitioner: Blending Chinese, Native American and Western health traditions to offer health consultations and wellness plans, and custom-blended, high-quality herbal preparations to clients worldwide. Faculty member at University of Massachusetts Amherst Faculty where he teaches "Topics in Herbalism I and II"; Teacher of Herbalism, Holistic Health, Earth-based wisdom and sustainability, Chinese philosophy, Meditation. Since 1981 and continuing still, Chris has pursued practice and training in Native American Medicine (Western, Chinese, Cherokee, Anishnabe-Ojibway traditions), through seminars, classes, workshops, personal study and research with teachers and medicine elders; Chris is a graduate of ·the Herbal Therapeutics School of Botanic Medicine's Advanced Graduate Clinical Program, Washington, NJ; Chris is a highly respected and sought after speaker at herbal conferences and schools across the US and abroad.

Maria Noël Groves, RH (AHG) - Clinical Herbalist, Owner & Practitioner at Wintergreen Botanicals, Maria is a Registered Herbalist/Professional Member of The American Herbalists Guild. She is a graduate in Clinical Herbalism from Southwest School of Botanicals Medicine and is a Certified Flower Essence Practitioner through Lichenwood Herbals.• Maria is Co-Founder & Past President of the NH Herbal Network Chapter of the AHG and is a graduate of the Advanced Science & Art of Herbal Therapeutics at Sage Mountain, VT. Among her many talents, Maria is an Herbal Author & Health Journalist, Health Editor & Columnist for Herb Quarterly magazine, and holds a seat on the Editorial Advisory Board of Taste for Life magazine. Current djunct Faculty & Contributor, Herbal Academy. Freelance Writer for Mother Earth News, Mother Earth Living, Taste for Life, Remedies, Aromaculture,, and other publications; Current Adjunct Faculty, Nashua Community College, Introduction to Herbology. Contract or Guest Educator for the Maryland University of Integrative Health, Massachusetts College of Pharmacy and Health Sciences, Concord Hospital Center for Health Promotion, NH Holistic Nursing Association, Canterbury Shaker Village (*with nursing contact hours). National Conference appearances include American Herbalist Guild Symposium, New England Holistic Nursing Conference, Mother Earth News Fairs, Traditions in Western Herbalism Conference, Great Lakes Herb Faire, NOFA Summer Conference Affiliations • Professional & School Member, American Herbalists Guild • Partner in Education, United Plant Savers • Professional Member, American Botanicals Council • Founder & Past President, NH Herbal Network Chapter of the AHG • Founder, Member & Past Coordinator of the award-winning Concord Co-op Wellness Education Program. Maria also authored Grow Your Own Herbal Remedies, Storey Publishing, 2019 and Body into Balance: An Herbal Guide to Holistic Self Care, Storey Publishing, 2016

Caroline Gagnon - Co-founder of FloraMedicina; A 4-year school for Clinical Herbal Studies, in Montreal, Quebec and on the web.

Caroline has been an herbal practitioner and international teacher for the past 20 years. She is a truly gifted teacher who understands the science, the practical applications of the plants, the anatomy and physiology of the body, and is able to teach with enthusiasm all these aspects in a very clear, deep and accessible way. She also stands deeply with the essence and energetics of the plants and the whole of the earth.

Her work has been strongly tied to community activism, bringing the plants to street kids, city dwellers, and community centers. She has helped to develop a protocol to naturally detox from heroin and has been on the board member of Trash (Technique de reference et d'accompagnement pour le sevrage d'héroine). Caroline has also taught to students in pharmacology at the University of Montreal. She has also been on the board of the Quebec herbalist Guild and a founding member of the professional wing. But what brought her fundamentally to the herbal world, is her deep, deep love of the earth and a strong need to reconnect with her ancestors.

In the last few years, one of her main areas of focus has been to help and educate herbalists deeply, while accompanying them through their own blocks, helping them to realize their gifts. Her vision is that there may be many of us practicing in these much changing times, as we are all being called forward.
"Caroline blows me away. She doesn't just teach teach about herbal energetics, self perception, pathology and physiology equally well, but she integrates them so holistically that the seeming boundaries between them fuzz out and disappear. To manage this while being so down to earth, approachable and heart centered in her teaching is a true gift. And she's just super cool, too... that's the icing on top." - Jim McDonald

Tammi Sweet - A passionate and energetic teacher, brings 28 years teaching experience into the classroom. Her amazement and wonder of the human body and how it works shines through as she presents the material in ways people can understand and utilize. She loves integrating the wisdom of the body with all aspects of living. Presently she co-directs her Herbal Program at Heartstone Herbal School, and teaches Anatomy and Physiology and herbalism at Herbal schools and conferences throughout the country. Her learning of the body has come through many paths including traditional Master's level college studies in Neurobiology, teaching College Anatomy & Physiology, Massage School, Yoga Teacher Training, Herbal studies, collegiate athletics and most importantly, an ever-growing love of understanding who we are in relation with this wonderful home we call the Earth.
POLICIES
No Pets
No Smoking
No Recreational Drugs
No Alcoholic Beverages
Refunds/Cancellations:
Any class/course/workshop/program (Except the 8-month herbal apprenticeship) taught by a guest teacher (as stated in description): Upon written notification from a student of cancellation or withdrawal, that notification received by Misty Meadows Herbal Center no less than 14 days before the scheduled class date, a refund of full tuition minus 25% will be issued within 30 days. No refunds will be issued for cancellations made after the 14-day cancellation deadline.
Any class/course/workshop/program (Except the 8-month herbal apprenticeship) taught by Misty Meadows staff (as stated in description): Upon written notification from a student of cancellation or withdrawal, that notification received by Misty Meadows Herbal Center no less than 7 days before the scheduled class date, a refund of full tuition minus 25% will be issued within 30 days. No refunds will be issued for cancellations made after the 7-day cancellation deadline.
8-Month Herbal Apprenticeship Program (The Spirited Herbalist: A Plant-Guided Journey To Your Self: Upon written notification of cancellation or withdrawal by a student, that notice received by Misty Meadows Herbal Center no later than April 1 of the registration year, a refund of all deposits minus 25% will be issued within 30 days. No refunds will be issued for cancellations/withdrawals made after the April 1 cancellation deadline. (Effective December 1, 2019)
State of New Hampshire Hedc 304.01(e):
(1) All refunds shall be paid within 30 days upon written notification from a student of cancellation or
withdrawal; and
(2) Students receiving benefits from federal programs shall be subject to federal refund policies, rules and
regulations;
Student complaint & Protection Notice
This notice is posted in accordance with Chapter Hedc300 Office of Career School Licensing Part Hedc305 COMPLAINT PROCESS
At Misty Meadows, we encourage fair conflict resolution and encourage all students, staff and faculty to work together.
Misty Meadows has zero tolerance for abusive language or behavior and prejudice based on race, ethnicity, culture, sex, sexual identity, religion, politics. Any student, faculty or staff member or guest displaying any of the aforementioned intolerances will be counseled by Wendy Fogg. If resolution is not achieved, the perpetrator will be expelled from the program, class or workshop, the Misty Meadows property and any educational obligation of Misty Meadows to the perpetrating student will be terminated with no chance for tuition refunds.
In the event of any student/student, student/faculty or student/staff conflict within the herbal apprenticeship program, the student is encouraged to seek the advice of their faculty advisor. If a resolution is not achieved, the faculty advisor or the student or staff or all/both will seek the counsel of Program Director Wendy Fogg in writing who will make a final determination. Students other than those enrolled in the herbal apprenticeship program will notify Wendy Fogg directly with any grievance in writing.
Upon exhausting the complaint process at Misty Meadows Herbal Center, student may contact the NH Department of Education Office of Career School Licensing, 101 Pleasant St., Concord, NH 03301. 603-271-6443.
TRANSFER OF CREDITS
Misty Meadows Herbal Center does not accept transfers of credit for its courses, classes or programs.